Want to make homemade macaroni and cheese for 20 or even 50 people or more? This is your recipe! Few dishes please old folks and young peeps alike like creamy, traditional macaroni and cheese. This recipe makes a large batch for 20 to 25 people, which you can then double for 50 to 60 people. Cooking in batches ensures proper seasoning and consistency, allowing large scale preparation of consistently delicious cheesy mac.
This website uses affiliate links which may earn a commission at no additional cost to you. As an Amazon Associate I earn from qualifying purchases.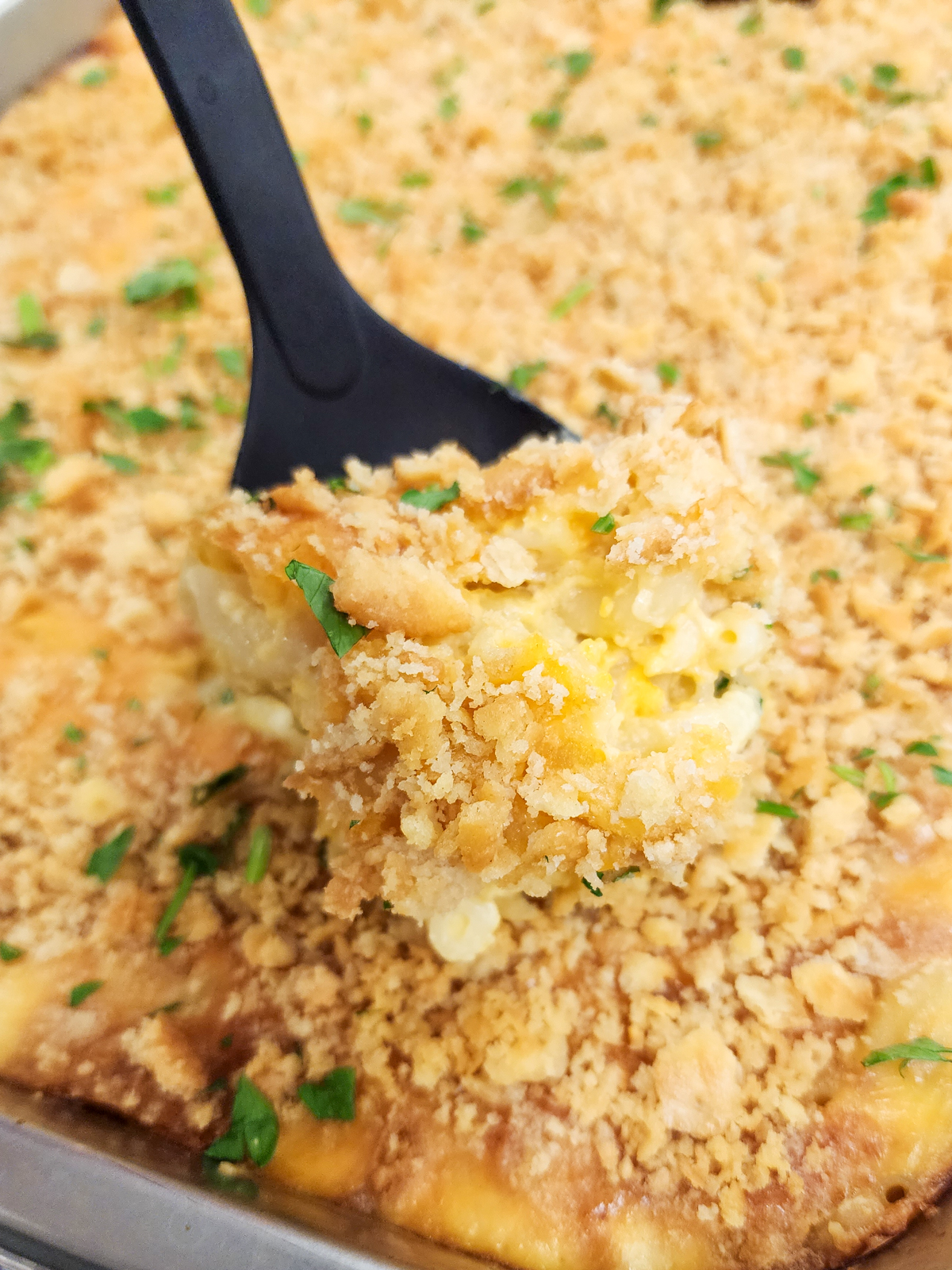 Why this recipe works
Making creative mac and cheese recipes is one of my favorite things on my primary blog, Erica's Recipes, but there is no love like the love I have for my Basic mac and cheese recipe. I love it, my family loves it, and when I make it for a LOT of people, they love it too.
When I scale up my basic recipe for dozens of people, however, there are a few tweaks I find I need to make to have it come out the way I want. Tweaks such as salting the pasta water, adding more American cheese, adding more milk, etc.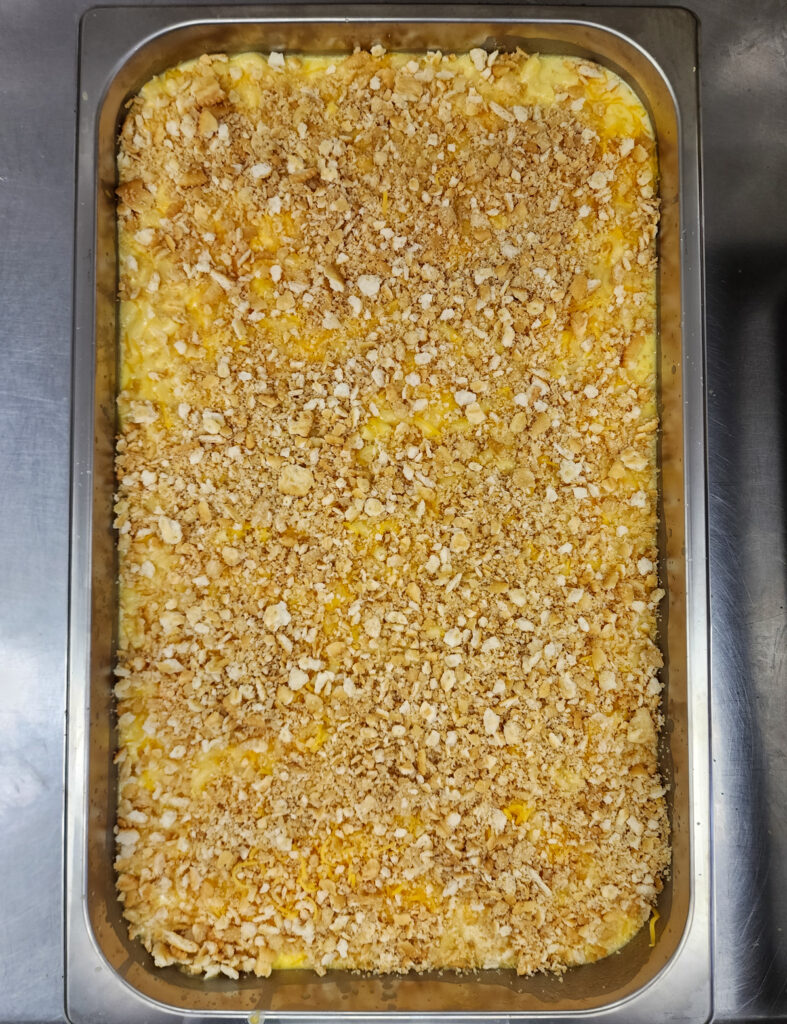 Why make in batches
Whether cooking macaroni and cheese for 20 people, or 50 people, or even 75-100 people, I recommend cooking in batches for 20-25 people (as laid out in the recipe card below).
This volume lets you get the sauce nice and tasty, especially for seasoning.
This volume is still small enough to make the sauce while the pasta is cooking, including getting the cheese mostly melted. A larger batch can result in a ton of unmelted, gummy cheese.
These volumes are manageable. I can lift a large pot of water and sling 2 lbs of pasta at a time.
Because of these reasons, I have turned off the adjustable portion slide in the recipe card for this recipe.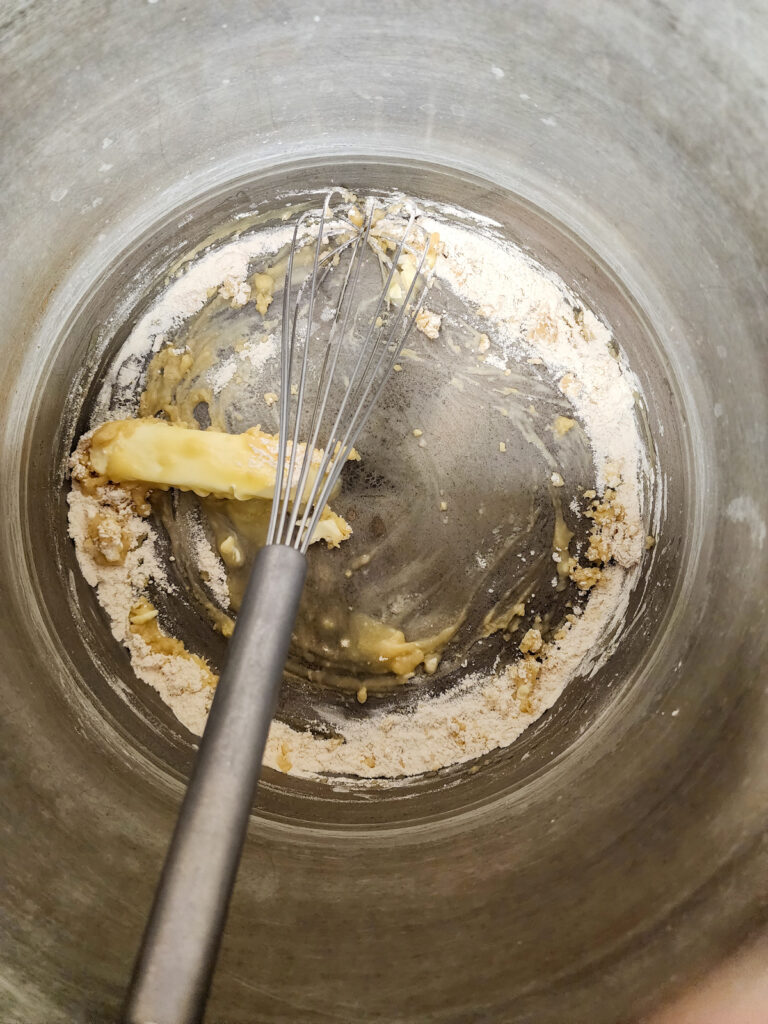 Main courses to serve with large batch mac and cheese
A large batch of macaroni and cheese is great to make as a vegetarian main dish, but I do prefer to keep it as a side for meat of some kind. Here are my favorites that are also easy to scale up for a crowd:
Pulled pork. On the occasion I made this recipe for a Church dinner, it was served with pulled pork sliders. Also, buttered corn and homemade cole slaw YUM.
Roast pork loin. Pork loin is relatively affordable and easy to roast to feed a crowd up to 50 to 60 people. It's even easier if you get them already in marinade, then just roast at 400 degrees F to an internal temperature of 155 degrees F. Rest 5-10 minutes, slice, and serve.
Meatloaf. Large scale meatloaf takes a bit of elbow grease to mix and form into logs in hotel pans for baking, but this old-fashioned dish is a hit every time.
Chicken quarters. Chicken quarters can be oven roasted or, even better, grilled if you are able and always so good with macaroni and cheese. Regardless of cooking method, cook to an internal temperature of 165 degrees F.
Burgers. Can't go wrong with juicy grilled burgers and mac and cheese.
Always cook meat to temperature! This is especially important when cooking for a lot of people – we don't want to get anyone ill.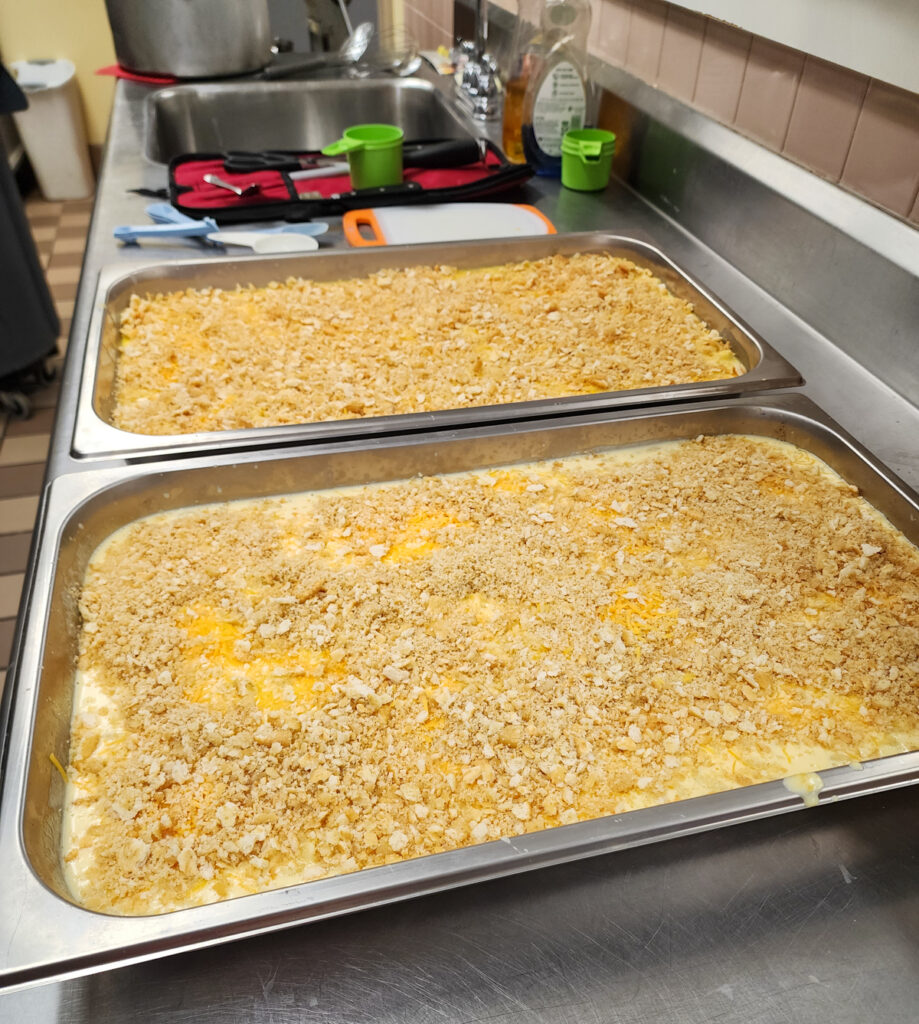 Be sure to check out my Broccoli Cheese Casserole for a Crowd, which can be assembled up to a day in advance. Also, if you are new to quantity cooking, my 12 Essential Tips to Cook for a Crowd is a great place to start.