Creamy coleslaw for 100 is one of the easiest dishes to make when cooking in large quantities. Crunchy cabbage and creamy dressing highlight this light and refreshing slaw that is neither drenched in mayonnaise nor overly wet. With just a couple ingredients, this coleslaw for a crowd of 100 is easy to make, scalable to fit your crowd size, can be made in advance, and will fit any budget.
This website uses affiliate links which may earn a commission at no additional cost to you. As an Amazon Associate I earn from qualifying purchases.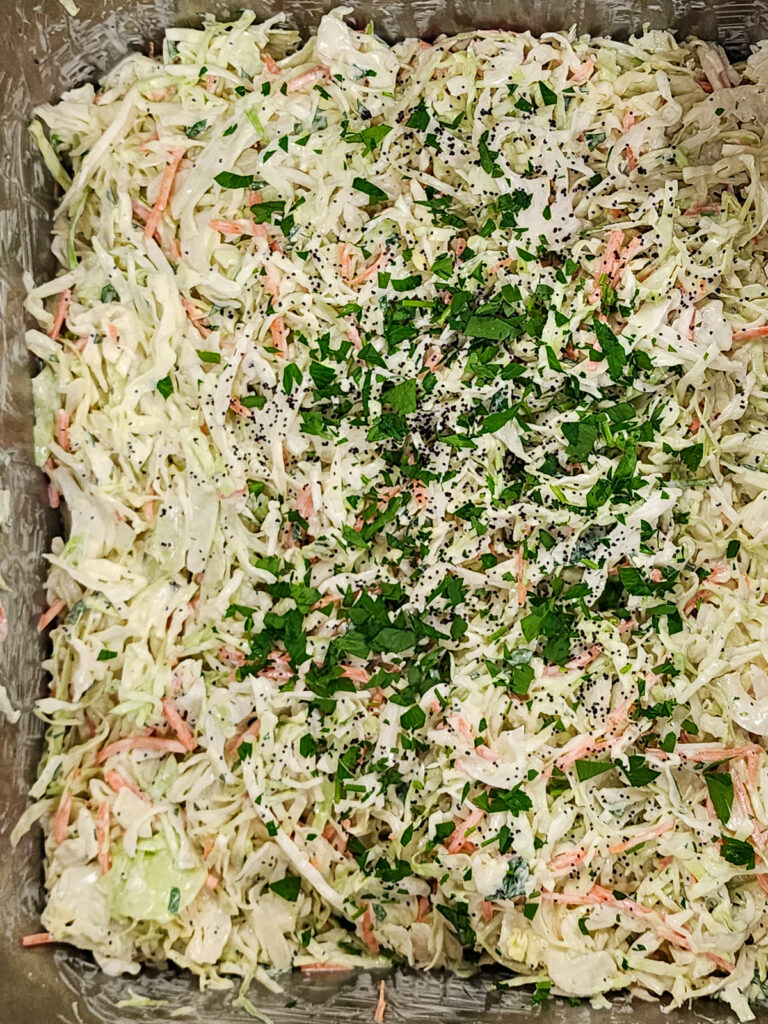 Why you will love this recipe
I first made this slaw at home for my family. This is one of those where I kinda knew what I wanted, so I looked around my kitchen and in the pantry and made it happen. And now THIS is how I will make slaw forever more especially when I am cooking for large numbers of people.
See, there is mayonnaise, but not much. There is ranch, but not too much. There is sweet cabbage crunch, a pinch of salt, and a little nutty flavor from poppy seeds. All together, these flavors sing together to complement any meal you like.
And the best part is that even though we are making coleslaw for 100, this recipe comes together in just minutes. Yes, you heard that right – MINUTES. Cooking in large quantity isn't hard, but it is more time-consuming dealing with the sheer volumes. But this coleslaw recipe? Nah. It doesn't take me much longer to make this for 25, 50, 100 people than it does for my family at home.
How much coleslaw per person
The easiest way to make coleslaw is to buy the bags of shredded cabbage slaw. I get 16 ounce bags from Walmart, Kroger, or Publix. These bags give 1-1/2 or 2 cups as the amount per person serving size, which is nonsense. No one is going to eat That Much slaw.
Instead, a generous 1/2 to 3/4 cup is a good serving size when feeding a crowd, especially if serving with, say, pulled pork sliders when the slaw is essentially a condiment. So one 16 ounce bag will feed 10 people. On the occasion I made this and took the photo for this post, I fed 50 with 5 bags slaw, with the slaw served alongside pulled pork sliders, corn, and macaroni and cheese.
If the slaw is intended to be served like a side salad, add a bit more. So for 100 people, I use 12 bags of slaw for an accoutrement but would add 2-4 more bags if serving as a full-on side dish. Make that determination based on who you are serving: if serving younger families with hearty appetites, add 2-4 more bags and a bit more ranch. If serving an older group with smaller appetites, stick to 10-12 bags.
Suggested additions
The humble coleslaw is quite versatile, making it literally a perfect dish in your repertoire for quantity cooking.
Pineapple
Onion, especially green onion
Bacon crumbles
Shredded apple
Cilantro and lime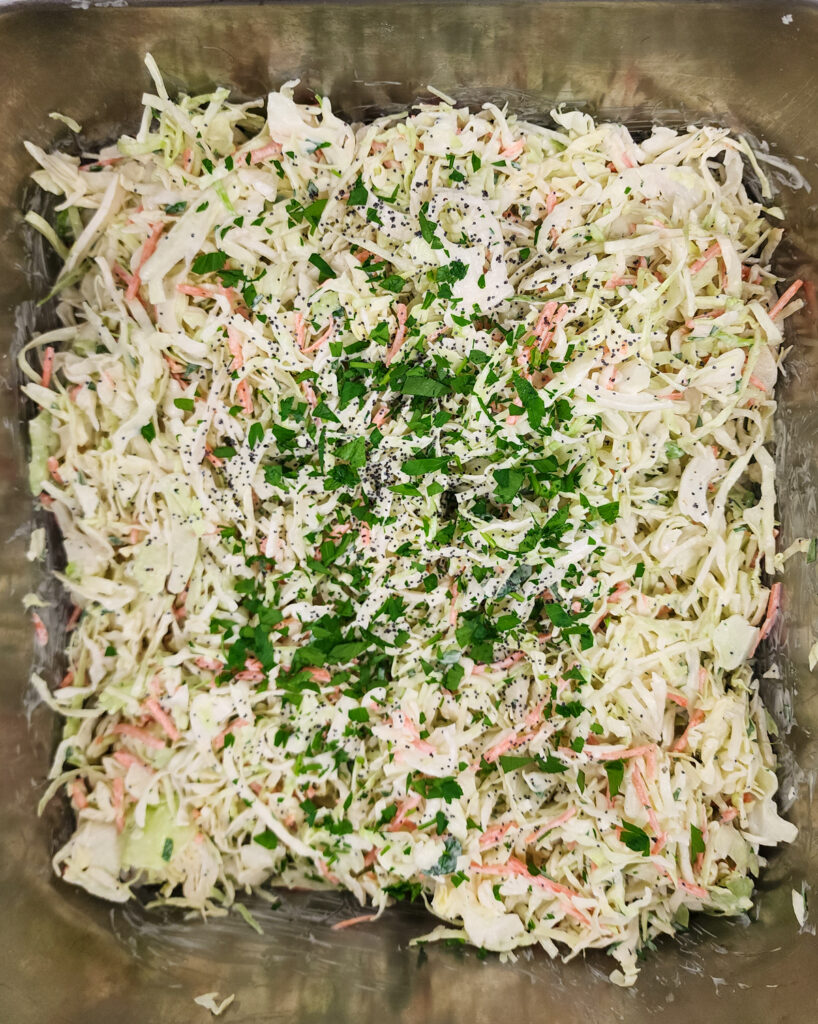 if you are new to quantity cooking, my 12 Essential Tips to Cook for a Crowd is a great place to start for all my best tips.