Mexican Street Corn Casserole is easy to prepare, affordable, and can be adjusted for up to 100 people. Why serve plain corn when you can proudly serve Mexican street corn! Of all my vegetable side dishes for a crowd, this is the most requested!
This website uses affiliate links which may earn a commission at no additional cost to you. As an Amazon Associate I earn from qualifying purchases.
The cost of ingredients for this side dish is $1.09 per person. (Calculated February 2020)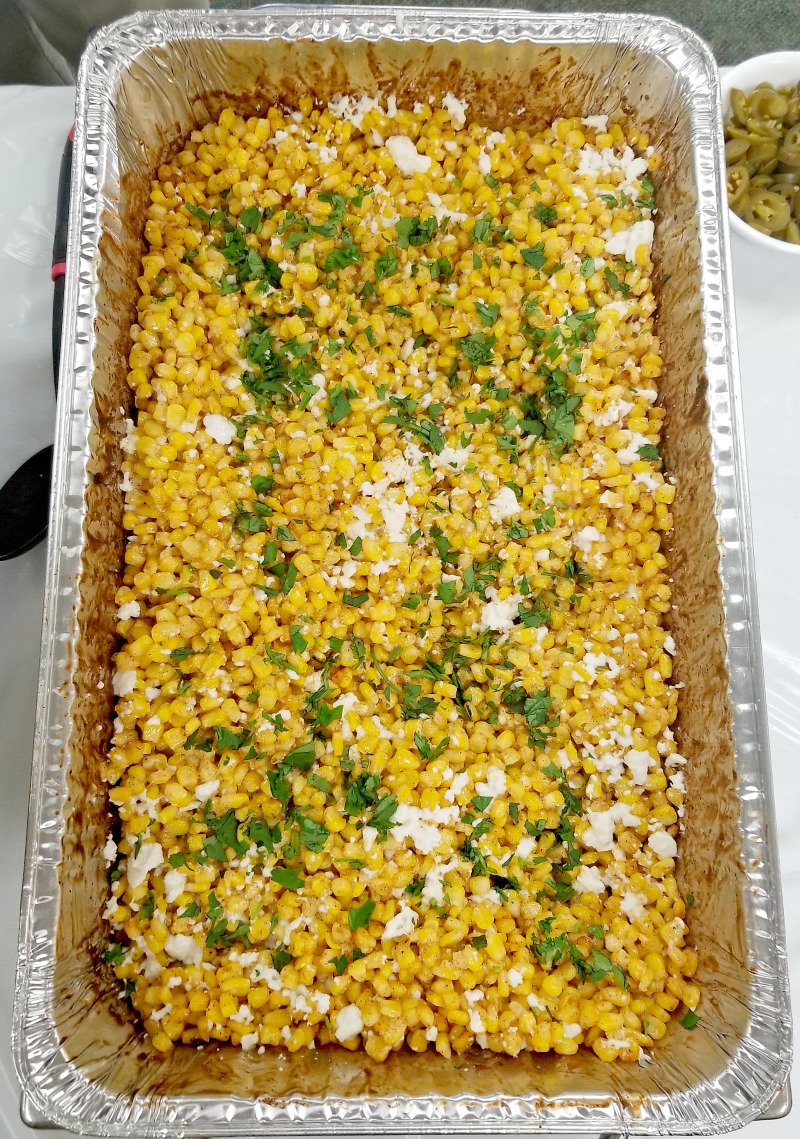 What is Mexican street corn?
Mexican street corn is a common street food where corn is grilled, then coated in a mix of mayonnaise, sour cream, cojita cheese, chile powder, and lime.
And It Is Amazing.
What is this Mexican street corn casserole recipe?
THIS corn casserole recipe for a crowd is a spin on Mexican street corn served up for as many people as you want. No grilling required, and it is super quick and easy to prepare especially for cooking for a lot of people.
Vegetable side dishes for a crowd can be a challenge because we want to keep it easy to make, we want it affordable, and we want everyone to be happy. This is how this recipe shines.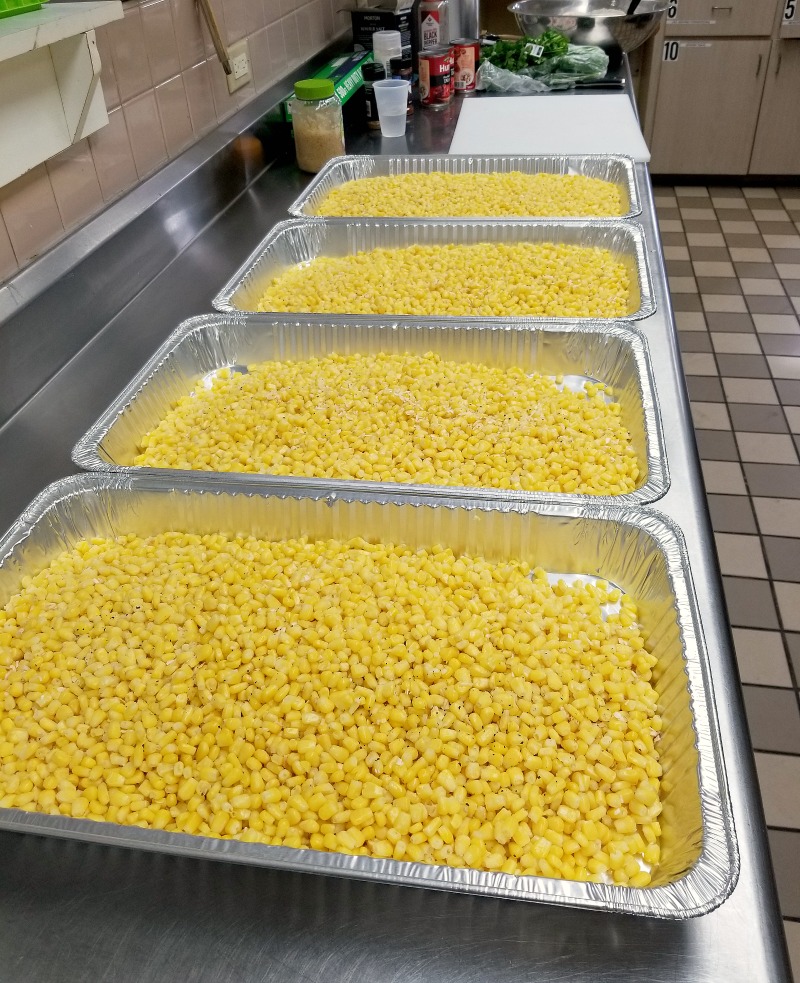 What are the ingredients for this vegetable side dish for a crowd?
Corn. I prefer using frozen corn, which I buy cheaply for $2.00 per 32 oz bag.
Mayonnaise. While one of the perks of this recipe is that it is cheap, I do recommend getting a good mayonnaise rather than generic.
Sour cream. Use a full fat sour cream.
Minced onion. Dried minced onion adds great flavor, and it is safe for serving older people that often cannot handle onion. And this way we don't have to chop onions. Winning.
Seasonings. For this recipe, we use chili powder, garlic powder, and kosher salt.
Cilantro. Use fresh cilantro and don't think twice about it.
Queso fresco. Cojita is used traditionally, but queso fresco is creamier. Queso fresco is also milder. These two qualities make it the better choice for serving a lot of people. Also, most grocery stores in the US carry it.
Some people do not like cilantro, it tastes like soap to them and I get that. My mom is a victim in fact. Knowing that, I often substitute cilantro with parsley when I cook for a lot of people, or leave it on the side. But with THIS recipe I add it and make zero apologies.
And has anyone ever complained? NOPE. Not one complaint ever.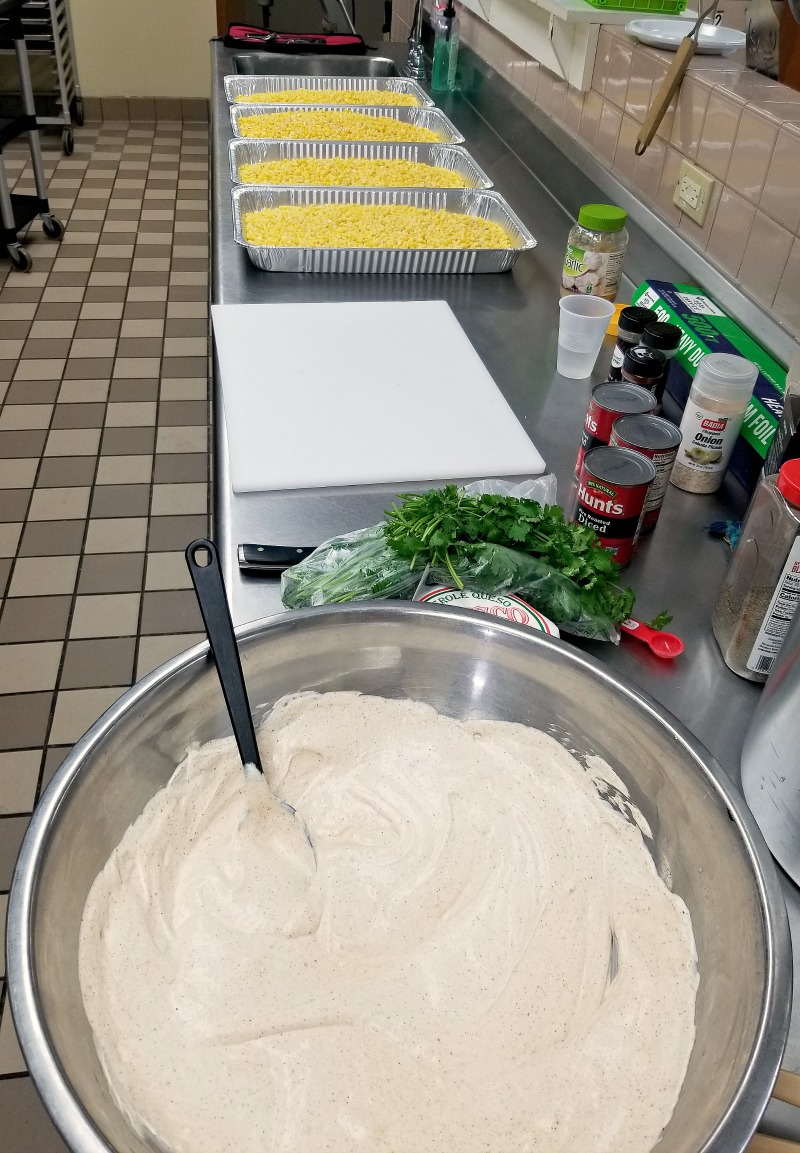 I was not exaggerating when I said that literally of all the vegetable side dishes for a crowd that I have cooked, this is the one that gets asked for again and again. And I certainly don't mind because this is easy peasy to make, even for 80 or more people.
What are the steps to make this Mexican street corn recipe?
The steps for making this vegetable side dish for a crowd are thusly:
Put corn in the pan(s). I generally distribute for approximately 20 servings per full hotel-sized pan. So, for 80 people, this is 4 pans.
Combine the ingredients for the mayonnaise-sour cream mixture. This is really easy, just mix in a large bowl and add to the corn.
Mix the mayonnaise mixture into the corn. I do this with my hands, wearing latex gloves. I find this is the most expedient way to do it, but it could also be done with utensils.
Bake. We want the corn casserole cooked through, and browned/ a little charred on the top and around the edges. This is key to it being like street corn.
Garnish. We gotta finish with the garnish, this makes it! And it is easy: just top with chopped cilantro and crumbled queso fresco cheese.
Note on the queso fresco: open the package and use a fork to crumble it up.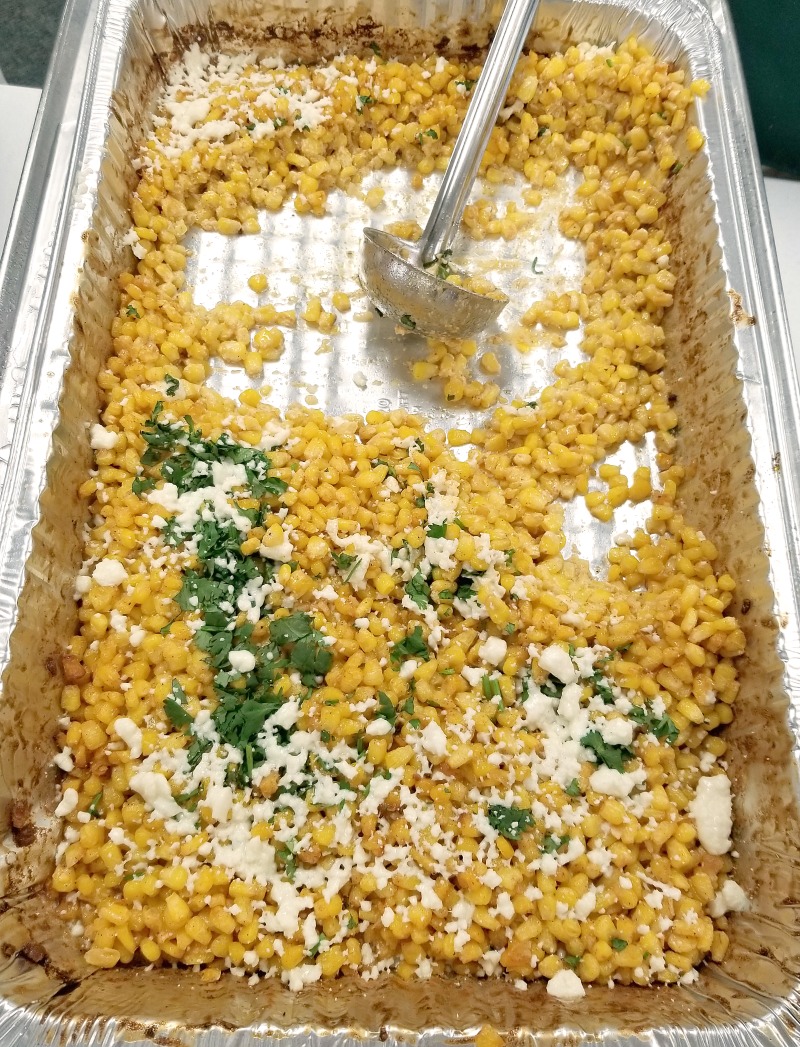 Tips for cooking Mexican Street Corn Casserole in large quantity
Because this casserole scorches around the edges, I recommend using disposable aluminum pans for easier cleanup.
When I purchase ingredients, I do not store the corn in the freezer. Instead, I put it in the fridge to get a head start on thawing. That said, corn thaws quickly so don't sweat it.
I get all the ingredients at Walmart, except the cilantro which I have to get at my regular grocery store.
A heaping ladle full will give you approximately the right serving size.
ALWAYS add more servings anytime you cook for a crowd. You never know who will show up unexpected or if the servings dished out will be accurate. Better to have too much than run out. I add 5-10 more servings if under 50 people and 10-15 more if over 50 people.
Along with the bullet above, when you are taking the amount you need and looking at what amount you can buy – round up. If you need 18 ounces of something and have to choose between 12 and 24, go up.
Check out my 12 Essential Tips to Cook for a Crowd.