Cheesy Broccoli Casserole that is easy to make for up to 100 people. This broccoli recipe is perfect for special occasions and can be assembled in advance.
This website uses affiliate links which may earn a commission at no additional cost to you. As an Amazon Associate I earn from qualifying purchases.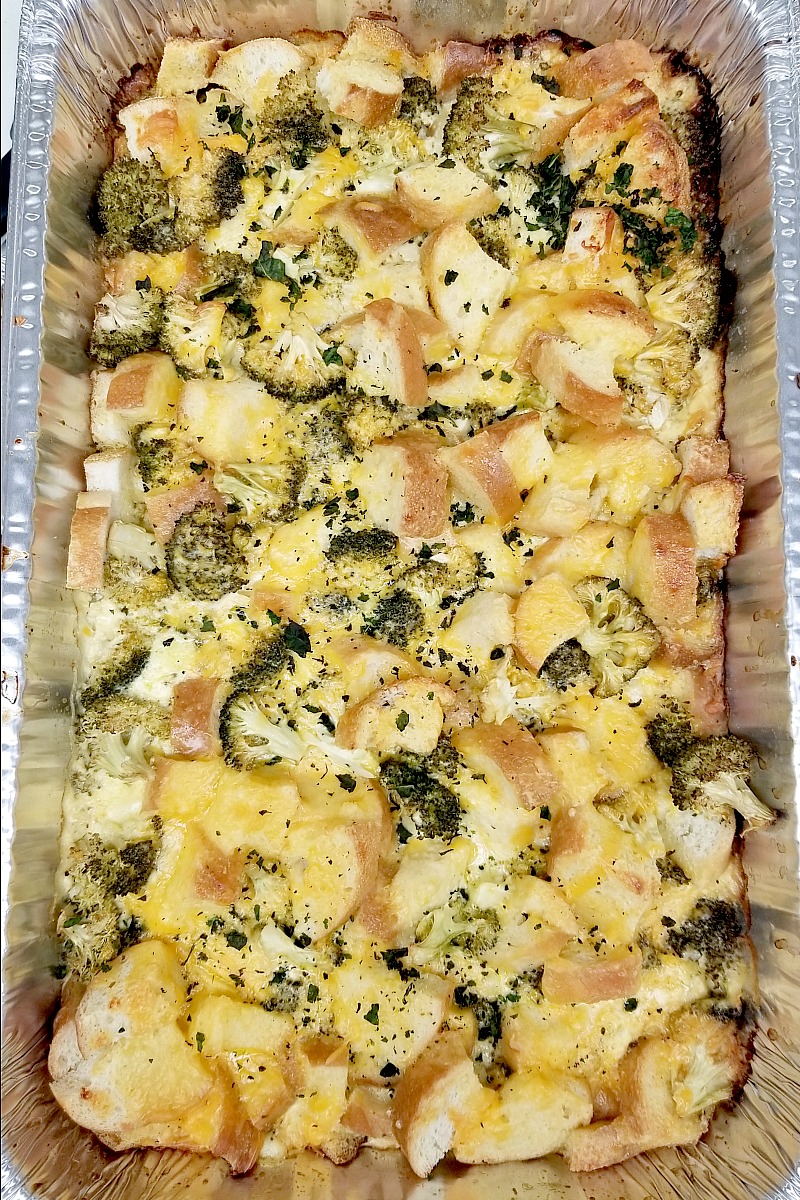 How I love this Cheese Broccoli Casserole! I have made this cheese broccoli casserole recipe several times now for between 50 and 100 people. This recipe is PERFECT for a holiday dinner, and in fact I have made it the past two years for church Thanksgiving suppers.
What is Cheesy Broccoli Casserole?
This broccoli casserole recipe is adapted from my original recipe. Broccoli and bread cubes are covered with a luscious cheesy sauce and baked.
The best things about this recipe are that the broccoli doesn't get too soft and retains some crunch, the bread soaks up the cheese sauce and becomes literally amazing, and it all can be assembled a day in advance.
What are the ingredients for this cheese broccoli casserole recipe?
Broccoli. Fresh or frozen is fine. The easiest thing to do is get large 52 oz bags of frozen broccoli florets. If frozen is used, broccoli won't stay as green during cooking and will get softer.
Baguettes. I use large baguettes from the grocery bakery.
Cheese sauce. This luscious cheese sauce uses cheddar with hints of Dijon and horseradish.
Basil. I get a little thing of semi-dried basil in the produce department. If not available, use fresh.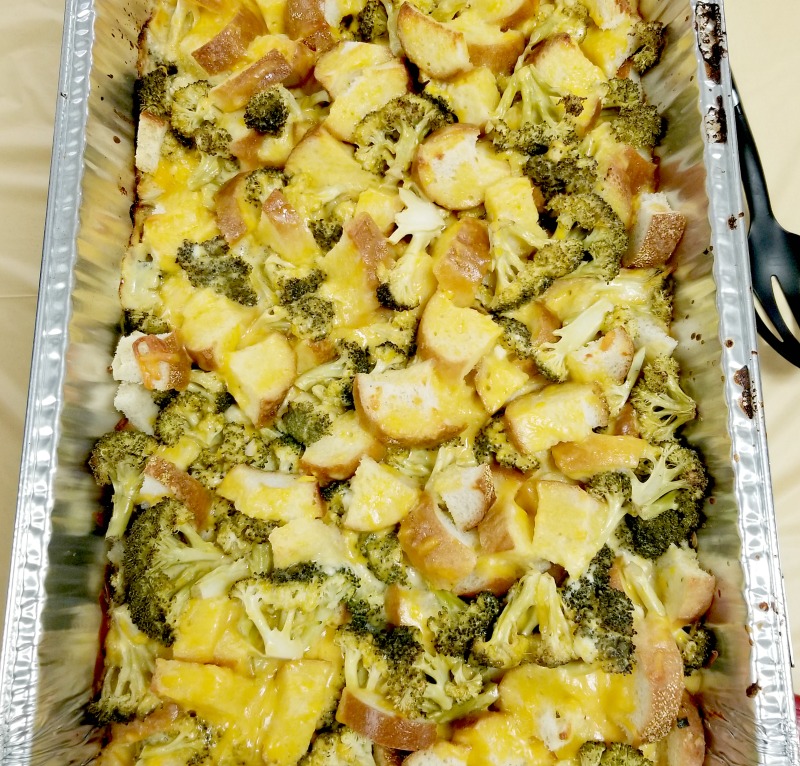 How to make this casserole for a crowd
Cut the bread into large cubes and toast in the oven.
Put the toasted bread and broccoli in pans.
Make the cheese sauce and add to the pans.
Bake.
Think of this recipe in terms of pans. One full hotel pan = 20 people. This is with nice GENEROUS servings, as a side dish.
Cooking broccoli casserole in quantity
When cooking this broccoli casserole in quantity, we don't want to get wrapped up in the weeds for the ingredients. If you have 20-25 people, make 1 pan. 35 people? Make 2 pans.
Think 20 = 1 pan, then make however many pans you need. Need 28 servings? Make a pan and a half. 45 servings? Make 2 pans.
This thinking works well for this recipe in particular.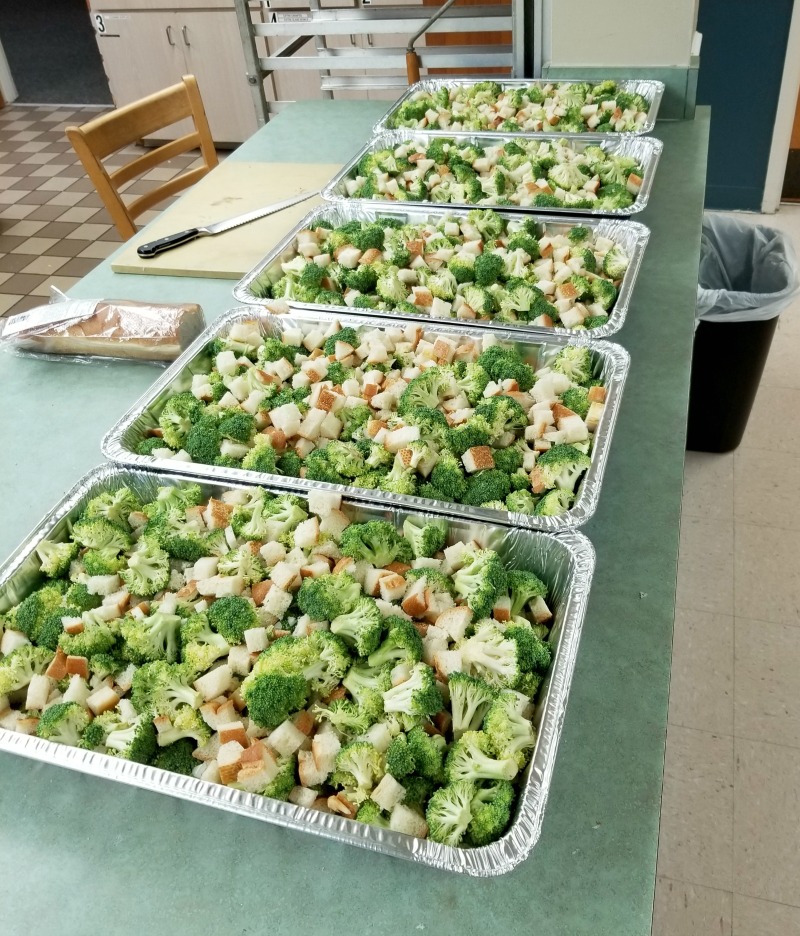 Can this broccoli casserole be made in advance?
Yes and I usually do. In the recipe card below, I tell you where to stop. We do all the assembly, then just wrap and stick in the fridge. Then pull it back out when you are ready to bake.
A good general rule making anything in advance is to take it out of the fridge and let it sit while you heat up the oven and do other prep work so it can come up a bit in temperature. Then it will cook more evenly.
What occasions are good for this casserole for a crowd?
This is a super pretty and appealing recipe and really well suited for feeding lots of people.
There's broccoli, which is a fairly safe vegetable to serve en mass. There's cheese, this makes everyone happy. There's texture from the broccoli and toasty bread, but also creamy yumminess from softer pieces of bread that have absorbed the cheese sauce.
Also, this recipe can be made in advance, so it is suited for all kinds of occasions:
church suppers
potlucks
receptions
feedings kids at camp
holiday gatherings
I can specifically attest that this casserole makes a really nice side dish for Thanksgiving, and I have done that up to 100 people. The contrast of green from the broccoli, the cheese, and bread, makes stand out.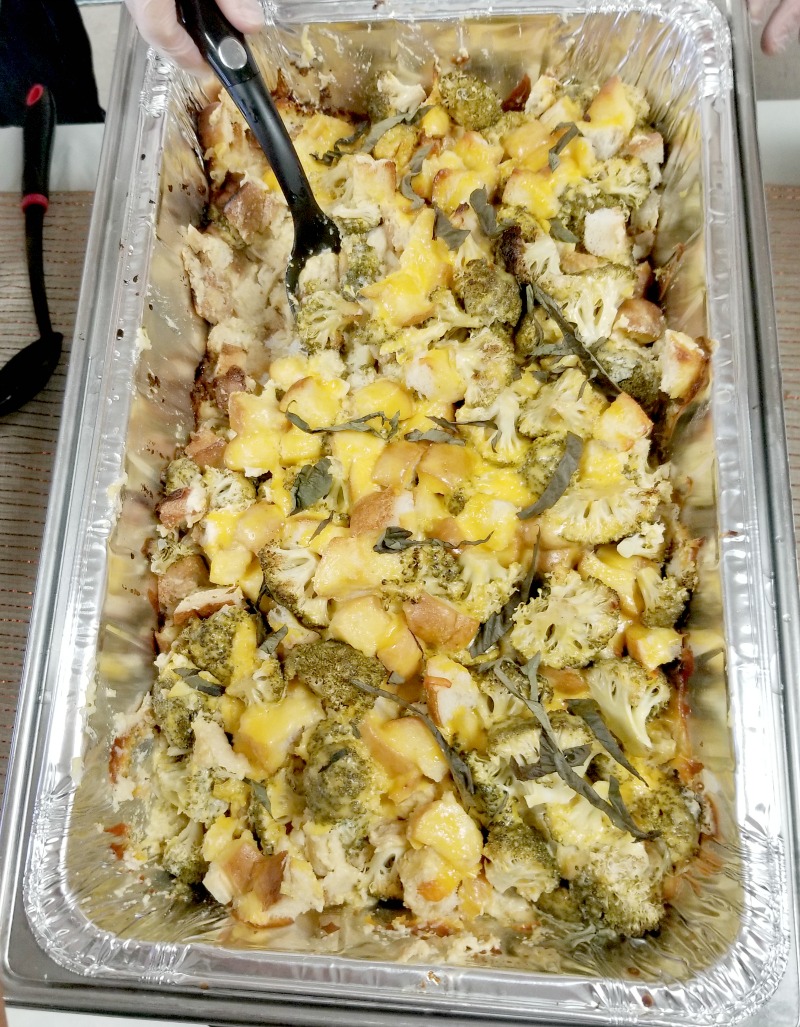 What to do with leftovers?
If everything goes right, I always have leftovers — running out of food is my biggest stress!
If there isn't much leftover, we box it up in takeout containers and let people have it. If there is a significant amount leftover – like a whole pan – we donate to a local shelter. Our pastor gives then a call, and they pick it up.
If cooking for a crowd, it's best to have a plan for the leftovers because wasting delicious food like this is such a shame. This casserole reheats really well too!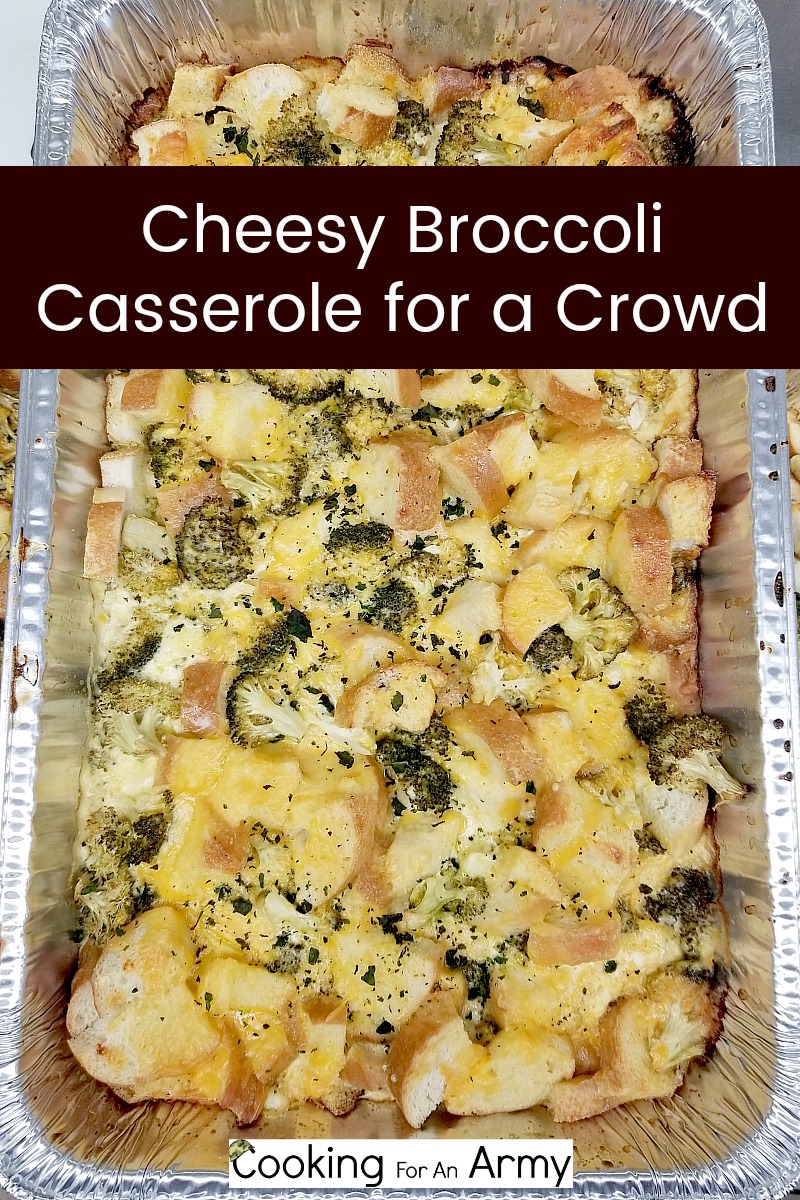 If you make this recipe, please let me know by leaving a star rating in the recipe card or comment below.
If you have any questions, leave a comment or use the Contact Form.